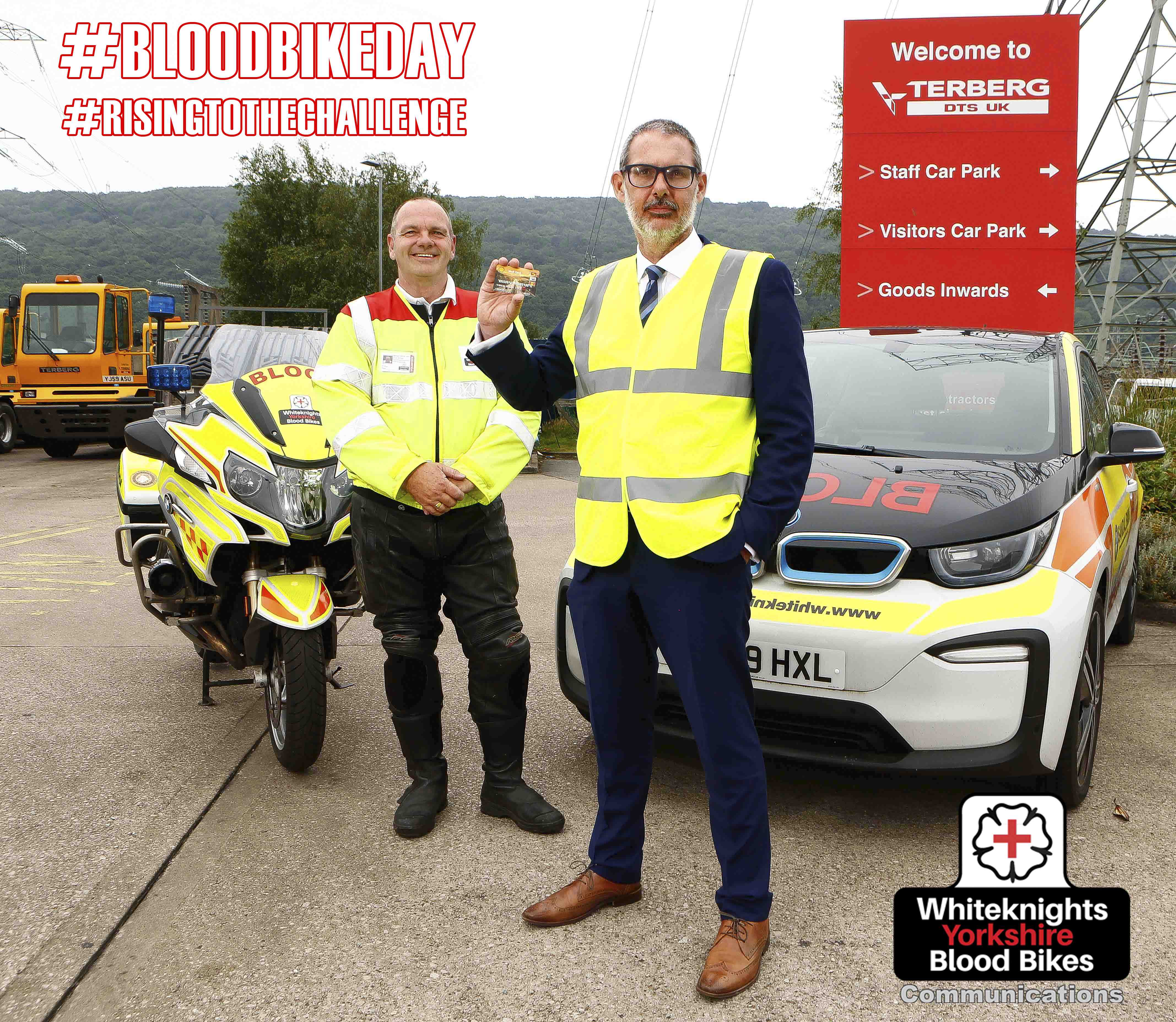 National Blood Bike Awareness Day – Friday 14th August 2020
Whiteknights Yorkshire Blood Bikes are delighted to announce that Elland-based specialist vehicle firm, Terberg DTS UK, have announced they will be "fueling the fleet of blood bikes" we operate as a voluntary Blood Bike Charity.
In recognition of the outstanding contribution to patient care in Yorkshire for moving Blood Samples, medications and donated breast milk, Terberg DTS UK have issued each motorcycle with a fuel card to pay the Whiteknights' petrol costs. This is a major financial initiative – the first of its kind for the Yorkshire Blood Bike Charity.
It coincides with National Blood Bike awareness day on 14th August which for the year of the 2020 pandemic has the theme of "Rising To The Challenge".
To respond to the Covid19 outbreak, Whiteknights Yorkshire Blood Bikes is now offering a 24/7 service in addition to the Out of Hours Urgent voluntary transportation service it provides for the NHS and Hospices in Yorkshire.
Head of Fleet Rental, for Terberg DTS UK, Robin Johnson said: "The volunteer work the Whiteknights Motorcyclists fulfill each night to benefit the NHS in Yorkshire is really inspiring, they do a brilliant job and we're thrilled to be able to support them in this new way."
The Chairman of Whiteknights Yorkshire Blood Bikes, Andrew Foster commented: "All our volunteers have made a tremendous contribution to support NHS services during the pandemic. We hugely appreciate Terberg DTS UK recognising this and being so willing to cover our fuel costs to keep our charitable service going when our routine fundraising events have been cancelled."
Pictured at the launch of "Fueling the Fleet" and the presentation of the first fuel card is Whiteknights Yorkshire Blood Bikes, West Yorkshire Manager, Andy Dickens alongside Robin Johnson from Terberg DTS UK.
Terberg DTS UK originally sponsored an operational Blood Bike motorcycle for Whiteknights back in 2018. In light of the importance of the work the bike was achieving, Terberg DTS UK have decided to further their support of Whiteknights Yorkshire Blood Bikes.