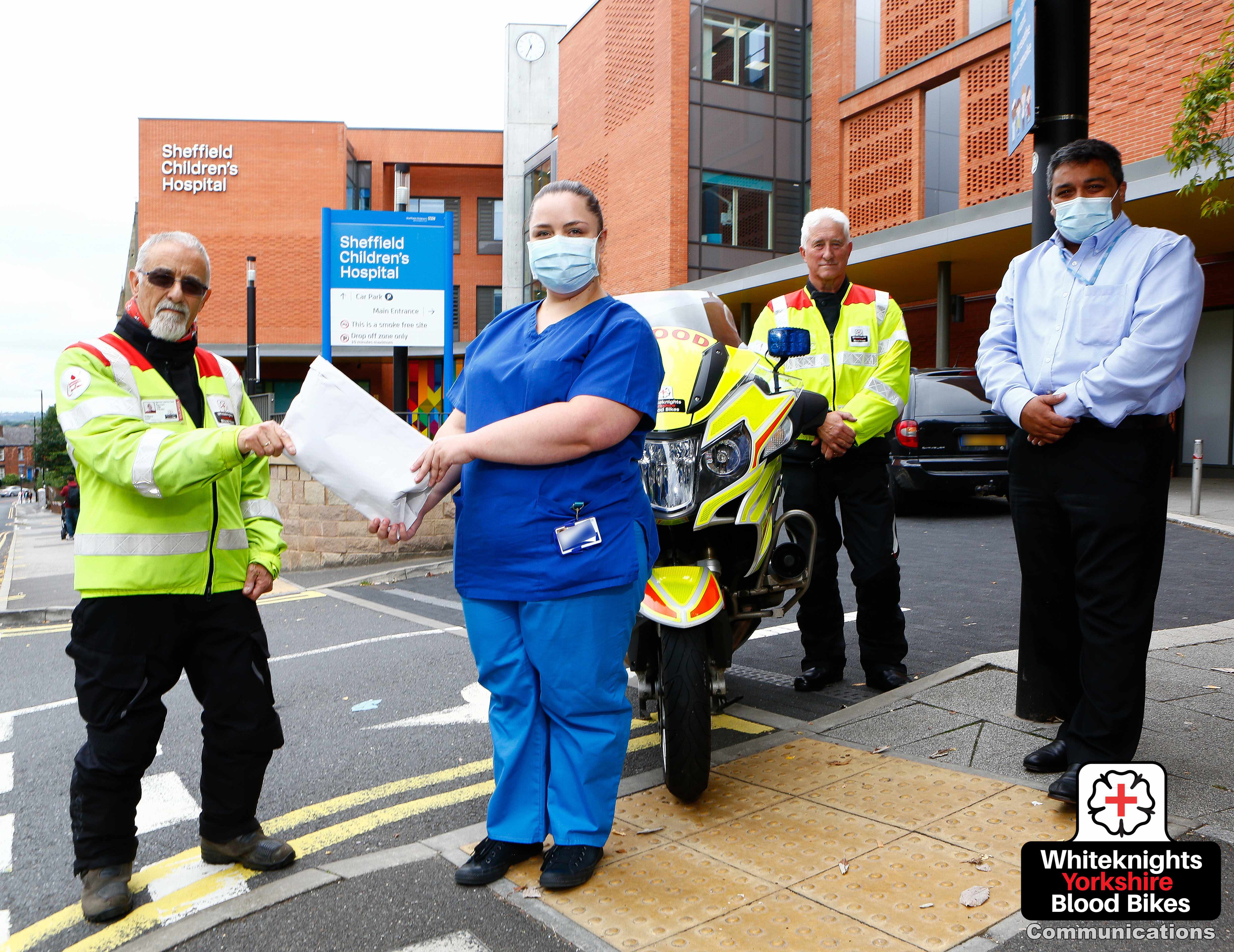 Volunteer Blood Bikers in Sheffield have announced they are providing a new, free-of-charge, urgent transportation service to Sheffield Children's Hospital.
Whiteknights Yorkshire Blood Bikes will today take the time-critical, Nasal Brush Biopsy samples from Sheffield to Leicester University for the diagnosis of a rare respiratory condition.
Children with Primary Ciliary Dyskinesia (PCD) have a problem with mucus build-up, which leads to infections and swelling of the airways and the ears. Ordinarily the mucus should be cleared by tiny hairs lining the airways called Cilia – but in a child with PCD this process is limited.
Dr Hemant Kulkami, Respiratory Consultant at Sheffield Children's NHS Foundation Trust runs the monthly PCD clinic.
"In order to diagnose the condition, a sample of the Cilia are taken from the child's nose. These samples are challenging to collect, and the procedure can be uncomfortable for the child. The samples are time sensitive and can deteriorate once taken. So its vital the samples are obtained from the patient and delivered to the lab within hours later that day."
"There are only three centres in England that can process the PCD samples. Once transported to the specialist respiratory centre at Leicester University the sample is then viewed under a microscope."
South Yorkshire Regional Manager for Whiteknights Yorkshire Blood Bikes, Roy Clark said: "The monthly transportation of PCD biopsy samples is another example of how we have been able to diversify the voluntary service we offer the NHS Foundation Trusts in Sheffield. Like all our routine work, the movement of these samples down to Leicester can be fully tracked in real-time. This new initiative is in addition to the overnight and weekend urgent call-out cover we provide to transport urgent blood samples between hospitals in South Yorkshire."
Layla Austerberry, Respiratory Physiology Assistant, pictured handing the samples to Roy Clark, commented: "I personally think it's great to have Whiteknights Yorkshire Blood Bikes providing this transportation service. With their experience in handling biological specimens, we know the samples will be in safe hands." 
Pictured at Sheffield's Children's Hospital (left to right)
Whiteknights Manager, Roy Clark, Layla Austerberry, Volunteer Rider, David Barrow, Dr Hemant Kulkami.